Tension as Bolga Assembly set to displace deprived locals for millionaire
A strong wave of public anger is brewing against the Bolgatanga Municipal Assembly, one observers say could cost the governing New Patriotic Party (NPP) some fortunes at the 2020 polls, over a move to evict hundreds of residents from their homes and shops for a popular millionaire businessman.
The assembly has issued an eviction notice to the residents, giving them up to this Sunday July 28, 2019, to move from their current location at Daporintindongo.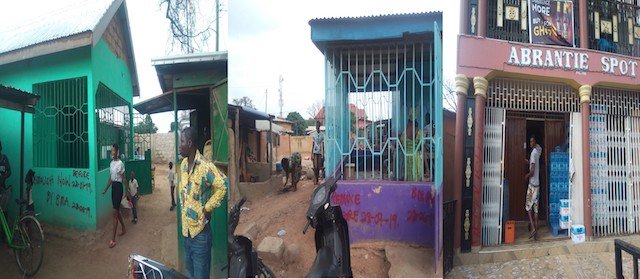 Issued last month with a red paint on several walls, the notice was met with disquiet in the area as affected households claimed they were the rightful occupants of the land and traders, whose shops were marked for demolition, said one month was too short to relocate and that the development would spell a collapse for their businesses.
"How can you tell us to move in a just a month's time? It is unfair. I'm not the owner of this place. My own landlord says he can't fight with the man who wants the land because he's a rich man. In my type of business, people normally deposit because it's not everybody who has cash to come and buy. They deposit money small, small. When it's up, then they will come for their things.
"The day they (the assembly officials) came and wrote that thing (the eviction notice) here, a lot of people came here to withdraw their monies because they were afraid that they would not find me. I would be the most affected person because I have people's monies with me which I have used to buy things for them. I can't get their monies for them because I've invested the monies. If this eviction happens, it can lead to the collapse of my company. I have employed five people. Everybody would lose their jobs," Dramani Mustapha, owner of P-Home Ventures, an electronics and home appliances shop, complained to Starr News.
Mary Anafo, a single mother operating a beauty salon, moaned likewise: "You can't just come and say you are demolishing this place within one month. Where are we going? Where are we going? I'm a single mother with three children and three siblings. I take care of all of them with the little I get from this shop and you want to demolish this shop so that my children and siblings will become thieves out of hunger?"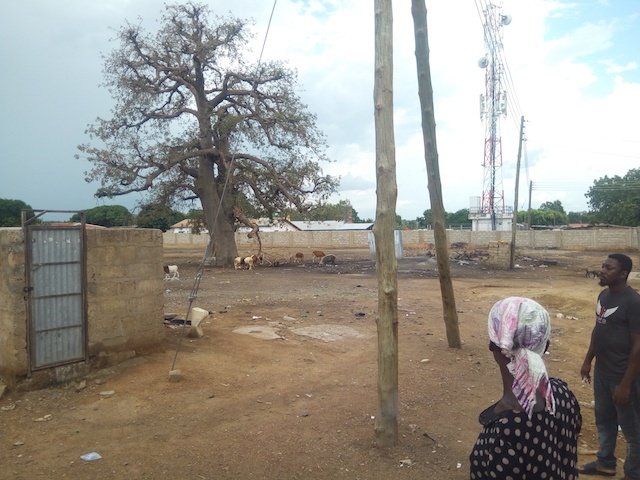 Warnings over Evicting Ancestors and Gods for Businessman
Whilst agitations are swelling seriously against government along the stretch occupied by the marked shops, some angry occupants of the houses on the assembly's demolition list also are maintaining that the land the millionaire industrialist claims he has bought is not for sale.
Pointing at a big old baobab tree in the middle of the disputed land, they say their ancestors and some gods live in it and it serves as a shrine for the clans whose common history binds the community together. The ancestors and the gods, according to them, strictly had asked many years ago that the land should not be sold but reserved for the shrine and the clans only. Any attempt to give out the land, they strongly say, is a forbidden shot to evict the gods from their homes and the ancestors from their resting place— a move they warn is an appeal for disaster.
"The land belongs to my great grandfathers. When my senior father, Awalga, was about to die, he took me round. He said he only wanted to inform me that this place is not meant to be sold to any person.  He said that is where our great grandfathers were buried. He showed me which portion of the graveyard was for children and which was for elders. He showed me where we could occupy as families. But today, the assembly and the Lands Commission would just come and be demarcating the place.
"I told them I won't die a death I don't understand. Before the developer started moulding blocks to fence the place, my younger brother sacrificed to the gods. I warned him about what our senior father had said. He did not listen. He sacrificed to the gods. Twenty-one days later, he was admitted at the hospital. For seven days, he did not eat anything. He died. What he did was a taboo. Now, the developer is asking us to move from our land, sacking everybody. My senior father told me those who flouted the instruction by giving out the land for sale would die one after the other," a member of one of the clans, Veronica Awalibire, explained confidently.
Irate Traders Storm Assembly with Petition
Meanwhile, the affected traders have followed up their protests with a strong petition addressed to the Municipal Chief Executive (MCE) of Bolgatanga, Joseph Amiyuure, asking him in that letter to "reconsider the decision to selectively embark on exercises that have the tendency to affect many businesses and lead to joblessness for many".
Not hearing from the MCE ten days after the petition had been forwarded to him, the traders, who come under one name as the Association of Daporintindongo Storeowners, filed a reminder to him and presented copies of their letters to the Upper East Regional Minister, Paulina Patience Abayage.
"We went to the MCE for explanation. We said our shops were marked and we didn't know what was happening. In fact, he didn't even give us chairs to sit. He just got up, saying, 'I'm tired. I'm going away'. And we were following him.
"I have workers who would lose their jobs if the assembly should do this. Look, the other shop there, where they sell the phones, has fifty workers who would go home if they clear these concrete shops for the developer who says we are blocking his view," a frustrated leader of the association, John Baba Abongo, told Starr News.
Another disappointed influential trader, Gabriel Asumboya, vowed: "We think they just want to bully their way through to see if they would succeed or not. But I think it's unfortunate they have not met the right people because we will resist them with all we have. The MCE is not treating us and the developer as equal human beings."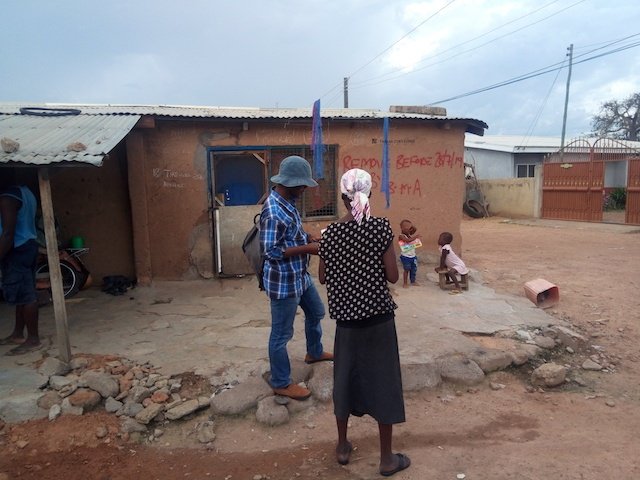 Assembly Believed to be Acting Alone
When Starr News met with the traditional landowner of Daporintindongo, Tindana Akulpelko Agerro, as well as authorities at the Town and Country Planning Department and the Lands Commission on the matter, their positions suggested the assembly was acting alone.
And when Starr News met with the MCE, he said he would not say anything until after he had spoken to the engineers at the assembly.
The businessman, Kenneth Anewenah, popularly known as Lesken, declined to go into the matter with the press when Starr News visited his office on Tuesday. As of the time Starr News was on his office block, he was said to be in talks with some of the affected house owners inside his office. Communicating through one of his staff, he told Starr News he would speak to the matter only after he had finished meeting with the interested parties.
The MCE, sources say, has set up a committee with a task to come up with a report on the dispute within two weeks. Starr News is keenly monitoring happenings with respect to this issue and will keep the public informed accordingly.