Osafo-Maafo goes to court over Kroll contract surcharge
The Senior Minister Yaw Osafo-Maafo says he is heading to court with four others over the auditor general's decision to surcharge him in the one million Kroll contract.
The former member of Parliament says the move is to afford him the opportunty to clear his name in the matter.
"I have today Wednesday, 11th December 2019, instructed my Lawyers to commence legal processes to challenge a Disallowance and Surcharge imposed on me by the Auditor-General following his notice on 24th October 2019.
"The evidence available shows clearly that the Auditor-General erred in law and professional procedures in the exercise of his powers regarding his audit on payments to Kroll and Associates Limited," the senior minister noted in a statement Wednesday.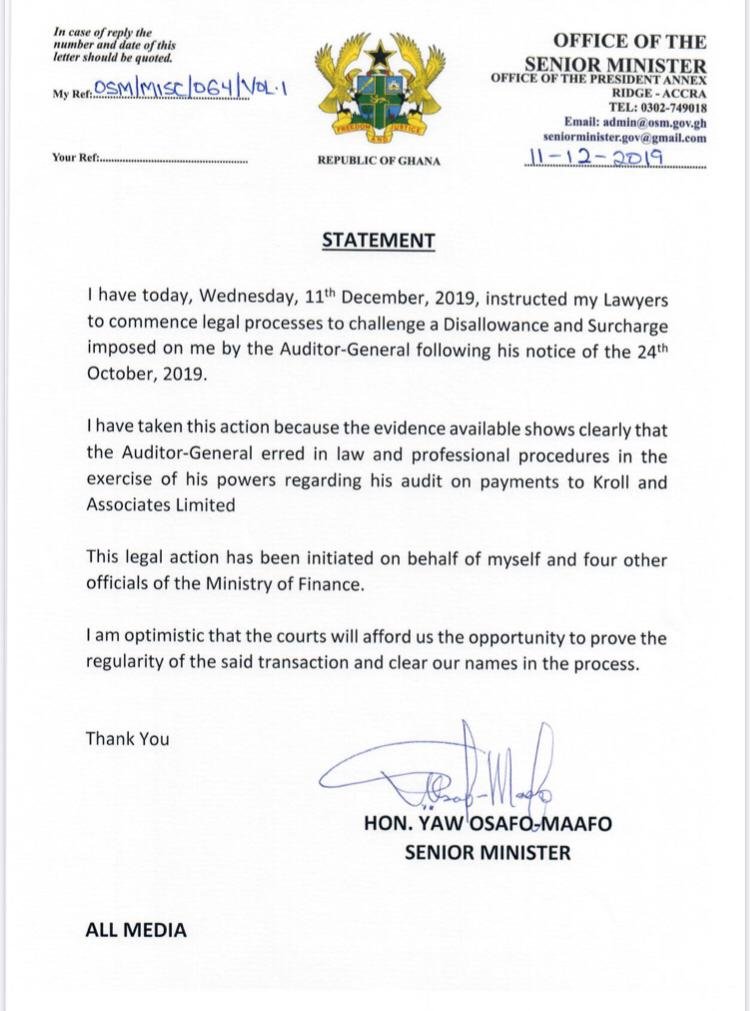 Background
The government on September 26, 2017 signed a contract with Kroll Associates for some professional services.
The contract was signed on behalf of the government by Mr Yaw Osafo Maafo, the Senior Minister.
The contract was to take effect from February 2017.
The opposition National Democratic Congress (NDC) for instance at a recent press conference stated that the contract "was curiously awarded to Kroll Associates based on an expression of interest by the company."
"Based on the expression of interest, the contract was eventually awarded on sole sourcing basis without prior approval from the Public Procurement Authority (PPA) contrary to the dictates of the Public Procurement Act 2003 (Act 663) as amended," the NDC stated.
According to the NDC, it is "following the letter from the Auditor General demanding proof of approval from PPA failure of which the Senior Minister stands liable for surcharge, that the Office of the Senior Minister released some documents purporting to show PPA approval for the contract."
A letter dated November 14, 2017 and addressed to the Minister for National Security, showed sole sourcing approval by the PPA. This purported approval went to the National Security Council Secretariat and not the Senior Minister, the NDC argued at its press conference.
According to the NDC, the sole sourcing approval by PPA conveyed to the National Security Council Secretariat was done and communicated on the 14th of November, 2017 and that it was notable that the contract to Kroll was awarded on 26th of September, 2017 with a retroactive effective date of 13th February, 2017. This simply reveals that the Kroll Associate contract awarded by the Senior Minister, did not receive prior approval from the PPA, the NDC alleged.
"This is in clear violation of the Public Procurement Act, which calls for the immediate prosecution of all involved including the Senior Minister."
"Following the Auditor-General's intensified steps to reclaim the illegal payment from the Senior Minister, certain back door machinations are being engineered to have him removed," the NDC General Secretary, Mr Johnson Asiedu Nketia said at the press conference.