IMANI's methodology for rating Akufo-Addo faulty – Hadzide
Deputy Minister of Information Pius Enam Hadzide has said the methodology applied by IMANI Ghana in measuring the implementation of President Akufo-Addo's campaign promises is faulty.
"IMANI's methodology was wrong and we know it. We worked it out and we noticed that the processes IMANI used for coming to the conclusions they made are problematic. A true and proper reading of the Imani Document will vindicate the President," he told Morning Starr host Francis Abban
It comes after the President said he disagrees with the policy think tank's 48.78% rating of his performance relative to his promises.
"I disagree with the 48 assessment by IMANI. I think we deserve much higher. We are looking at 72. We have a fundamental disagreement with that rating.  Our figure is the one we are working with and it's the right one," the President noted at his 3rd encounter with the media in Accra.
IMANI Africa has scored the Akufo-Addo government 48.78% in the delivery of its campaign promises so far.
They also scored the government 54.35% for its handling of the economy. The manifesto assessments by IMANI which was outdoored Wednesday said government has only implemented 41 out of the 162 promises it made in the party's 2016 manifesto.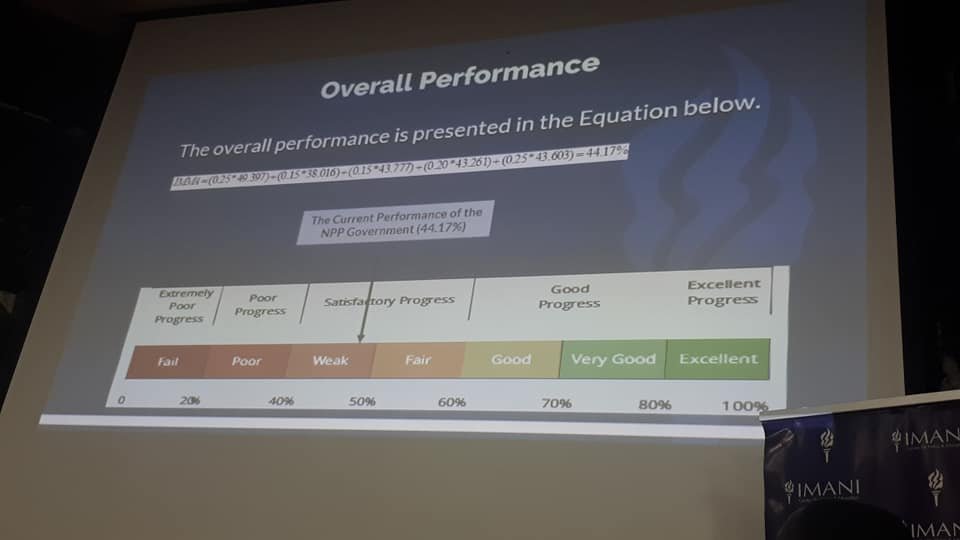 The 2019 IMANIfesto rates the performance of the NPP government  and assesses how major policy initiatives involved the citizenry along in pursuit of their own economic advancement.
"Collecting data from the 2016 NPP manifesto, all main and supplementary budgets by the government to date, annual progress reports, auditor general's reports, reports of statutory bodies such as the public interest and accountability committee, parliamentary Hansards, websites of various Ministries, Departments and Agencies MDAs, newspapers and news portals, the results show that, the government has achieved an overall performance on executing its manifesto commitment of 48.78 percent. This is a satisfactory progress, according to the IMANI MANIFESTO ASSESSMENT (IMMA) Framework, although it sits in the lower bounds of this interpretation. Disaggregating this performance, the NPP government scores, 54.35 percent in the delivery of its commitments on the economy, 46.21 percent on governance, and 46.44 percent on infrastructure.
"The government scores 39.13 percent and 43.78 percent on human capital development and social services respectively. Clearly, the aggressive strategy of the government in driving the agriculture industry is seen in its commitment to ensuring that it pushes through most of its promises to "resuscitate" the sector, with positive results registered in some value chains. It is also a progressive sign to see that, performances in the economy, education and infrastructure, are all pushing the median mark of execution. Health and information technology require significant attention. With the final budget of the government having been presented, a window of opportunity exists for further considerations to ensure these themes also see some marked improvements," IMANI's executive summary said.