News
A soldier kicked me in the abdomen – Kumasi Girls SHS student
A student of Kumasi Girls SHS in Kumasi has said she was kicked in the abdomen by a military officer who had come with his colleagues to restore calm during a protest by students on Tuesday.
It comes after the Police in a statement denied reports that they assaulted students of the Kumasi Girls SHS and St. Louis SHS who were reportedly protesting the cancellation of their midterm break.
Speaking to Francis Abban on Morning Starr, the 3rd year student said some of her colleagues sustained major injuries as a result of the brutalities.
"When the military and police entered the school they entered the dormitories and started beating us because we refused to stop screaming. They kicked us on the floor. Some of the colleagues had marks on their bodies and some were also bleeding as a result of the canes we were being beaten with.
"We were kicked on the floor by the military and police officers. I was kicked in the abdomen by a military officer," she recounted Wednesday.
She described the police denial as false.
"The police are lying. We were beaten".
Below is a statement by the Police on the incident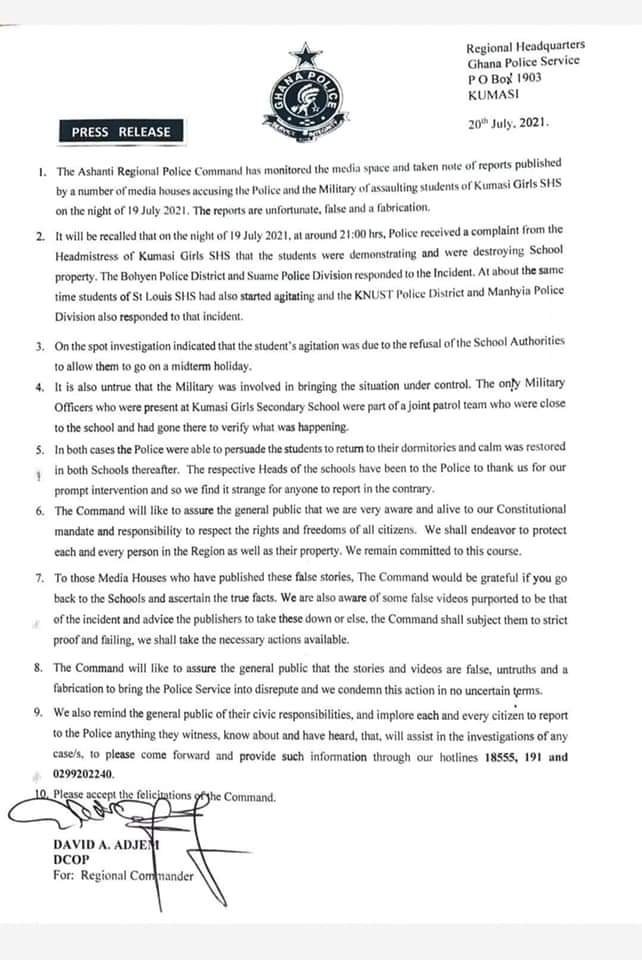 Note: An earlier version of this story had attributed the claim to a St Louis student. That was in error hence the review.